ROSE END MEADOWS NATURE RESERVE CROMFORD
OWNED BY THE
DERBYSHIRE WILDLIFE TRUST

---
BIRDS: Since the Reserve was opened to the public in October 1987 the following birds have been recorded: (Scroll down to see full list)
| | | |
| --- | --- | --- |
| Total species to date | 77 | Oct 1987-Aug 2008 - 1,000 visits |
| Average per visit | 14 | 45 Minutes - recording time |
| Most per visit | 26 | Spring - 3rd May 2008 |
| Least per visit | 5 | Winter- 17th December 1988 |
"Best bird" seen on the Reserve is the Hawfinch usually seen from October to February most years but the best month to seen them is usually January.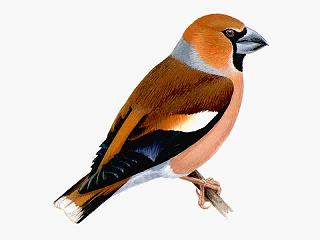 Image from Birdguides CD-ROM Guide to British Birds
The other "Best bird" is the Waxwing but they occur irregularly during Winters when the U.K. receives an overwhelming influx of Scandinavian birds. Occurred in 1988/89, 1991/92, 1993,1999, 2001,2003 and February 2009.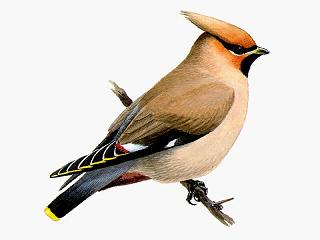 Image from Birdguides CD-ROM Guide to British Birds
The Tables below show:
Species Recorded to date Likely to see %
| | | | | | | |
| --- | --- | --- | --- | --- | --- | --- |
| | Species | Euring | | | Species | % |
| 1 | Cormorant | 72 | | 1 | Blue Tit | 98.1 |
| 2 | Heron | 122 | | 2 | Robin | 92.5 |
| 3 | Pink-Footed Goose | 158 | | 3 | Blackbird | 92.2 |
| 4 | Canada Goose | 166 | | 4 | Magpie | 91.9 |
| 5 | Mallard | 186 | | 5 | Jackdaw | 89.6 |
| 6 | Goosander | 223 | | 6 | Woodpigeon | 88.8 |
| 7 | Red Kite | 239 | | 7 | Chaffinch | 80.4 |
| 8 | Sparrowhawk | 269 | | 8 | Wren | 79.7 |
| 9 | Buzzard | 287 | | 9 | Great Tit | 73.1 |
| 10 | Kestrel | 304 | | 10 | Dunnock | 70.7 |
| 11 | Peregrine Falcon | 320 | | 11 | Greenfinch | 58.5 |
| 12 | Red-legged Partridge | 358 | | 12 | Collared Dove | 51 |
| 13 | Grey Partridge | 367 | | 13 | Bullfinch | 47.2 |
| 14 | Pheasant | 394 | | 14 | Mistle Thrush | 41.5 |
| 15 | Black-headed Gull | 582 | | 15 | Song Thrush | 38.4 |
| 16 | Lesser Black-backed Gull | 591 | | 16 | Goldfinch | 37.7 |
| 17 | Herring Gull | 592 | | 17 | House Sparrow | 28.4 |
| 18 | Stock Dove | 668 | | 18 | Willow Warbler | 27.6 |
| 19 | Woodpigeon | 670 | | 19 | Jay | 23.1 |
| 20 | Collared Dove | 684 | | 20 | Blackcap | 19.6 |
| 21 | Cuckoo | 724 | | 21 | Swift | 19.3 |
| 22 | Barn Owl | 735 | | 22 | Chiffchaff | 15.2 |
| 23 | Tawny Owl | 761 | | 23 | House Martin | 15 |
| 24 | Swift | 795 | | 24 | Whitethroat | 14.8 |
| 25 | Green Woodpecker | 856 | | 25 | Starling | 14.1 |
| 26 | Great Spotted Woodpecker | 876 | | 26 | Great Spotted Woodpecker | 12.6 |
| 27 | Lesser Spotted Woodpecker | 887 | | 27 | Redwing | 11.1 |
| 28 | Swallow | 992 | | 28 | Nuthatch | 10.3 |
| 29 | House Martin | 1001 | | 29 | Siskin | 9.1 |
| 30 | Tree Pipit | 1009 | | 30 | Fieldfare | 8.9 |
| 31 | Meadow Pipit | 1011 | | 31 | Kestrel | 8.8 |
| 32 | Grey Wagtail | 1019 | | 32 | Swallow | 8.3 |
| 33 | Pied Wagtail | 1020 | | 33 | Hawfinch | 8.1 |
| 34 | Waxwing | 1048 | | 34 | Black-headed Gull | 7.5 |
| 35 | Wren | 1066 | | 35 | Long-tailed Tit | 7.4 |
| 36 | Dunnock | 1084 | | 36 | Coal Tit | 7.2 |
| 37 | Robin | 1099 | | 37 | Carrion Crow | 7.1 |
| 38 | Redstart | 1122 | | 38 | Linnet | 6.3 |
| 39 | Blackbird | 1187 | | 39 | Tree Pipit | 5.9 |
| 40 | Fieldfare | 1198 | | 40 | Garden Warbler | 5.2 |
| 41 | Song Thrush | 1200 | | 41 | Raven | 4.9 |
| 42 | Redwing | 1201 | | 42 | Pheasant | 4.5 |
| 43 | Mistle Thrush | 1202 | | 43 | Sparrowhawk | 4.2 |
| 44 | Lesser Whitethroat | 1274 | | 44 | Pied Wagtail | 3.6 |
| 45 | Whitethroat | 1275 | | 45 | Waxwing | 3.6 |
| 46 | Garden Warbler | 1276 | | 46 | Lesser Whitethroat | 3.1 |
| 47 | Blackcap | 1277 | | 47 | Redstart | 3.1 |
| 48 | Chiffchaff | 1311 | | 48 | Goldcrest | 2.8 |
| 49 | Willow Warbler | 1312 | | 49 | Green Woodpecker | 1.5 |
| 50 | Goldcrest | 1314 | | 50 | Buzzard | 1.4 |
| 51 | Spotted Flycatcher | 1335 | | 51 | Heron | 1.3 |
| 52 | Pied Flycatcher | 1349 | | 52 | Spotted Flycatcher | 1.3 |
| 53 | Long-tailed Tit | 1437 | | 53 | Tawny Owl | 1.2 |
| 54 | Marsh Tit | 1440 | | 54 | Stock Dove | 1 |
| 55 | Willow Tit | 1442 | | 55 | Cormorant | 0.9 |
| 56 | Coal Tit | 1461 | | 56 | Marsh Tit | 0.8 |
| 57 | Blue Tit | 1462 | | 57 | Cuckoo | 0.6 |
| 58 | Great Tit | 1464 | | 58 | Mallard | 0.6 |
| 59 | Nuthatch | 1479 | | 59 | Grey Wagtail | 0.5 |
| 60 | Treecreeper | 1486 | | 60 | Canada Goose | 0.4 |
| 61 | Jay | 1539 | | 61 | Treecreeper | 0.4 |
| 62 | Magpie | 1549 | | 62 | Herring Gull | 0.4 |
| 63 | Jackdaw | 1560 | | 63 | Barn Owl | 0.4 |
| 64 | Rook | 1563 | | 64 | Meadow Pipit | 0.4 |
| 65 | Carrion Crow | 1567 | | 65 | Willow Tit | 0.3 |
| 66 | Raven | 1572 | | 66 | Pink-Footed Goose | 0.3 |
| 67 | Starling | 1582 | | 67 | Rook | 0.3 |
| 68 | House Sparrow | 1591 | | 68 | Red-legged Partridge | 0.3 |
| 69 | Tree Sparrow | 1598 | | 69 | Peregrine Falcon | 0.3 |
| 70 | Chaffinch | 1636 | | 70 | Red Kite | 0.2 |
| 71 | Brambling | 1638 | | 71 | Goosander | 0.2 |
| 72 | Greenfinch | 1649 | | 72 | Lesser Black-backed Gull | 0.2 |
| 73 | Goldfinch | 1653 | | 73 | Lesser Spotted Woodpecker | 0.1 |
| 74 | Siskin | 1654 | | 74 | Brambling | 0.1 |
| 75 | Linnet | 1660 | | 75 | Tree Sparrow | 0.1 |
| 76 | Bullfinch | 1710 | | 76 | Pied Flycatcher | 0.1 |
| 77 | Hawfinch | 1717 | | 77 | Grey Partridge | 0.1 |
Please use your "Back Button" to escape this page